[[Our exclusive collaborations deliver high-end, bespoke interiors, finishes and design furniture with aesthetics that transcend the notion of seasonal trends, creating environments which are unbound by time. The result is a sophisticated collection born of an ongoing process of redefining taste, class and style.///Nos collaborations exclusives vous offre des intérieurs, finitions et mobilier design haut de gamme et sur mesure, avec esthétiques qui transcendent la notion des tendances saisonnières, la création de contextes qui sont indépendant de temps. Le résultat est une collection sophistiquée, née d'un processus de redéfinition de goût, de classe et de style.]]
— creative director Rebecca Ross Carlen
[[Privatiselectionem cherishes the methods and techniques of time honored craftsmanship. Hand tooled from high-quality and natural materials, the understated class and bespoke quality of each model renders them strictly as individual objects for collectors and aficionados.///Privatiselectionem chérissent des produits avec les méthodes et techniques de l'artisanat de temps honoré. Usiné à la main à partir de matériaux naturels et de haute qualité, la classe sobre et qualité sur mesure de chaque modèle rend strictement comme des objets pour collectionneurs et aficionados.]]
Privatiselectionem likes to invent and tell new stories.
Walking its own creative path as it dares, disturbs, seduces, surprises.
— designers Tatyana Glebova-Lowe & Boris Peevburg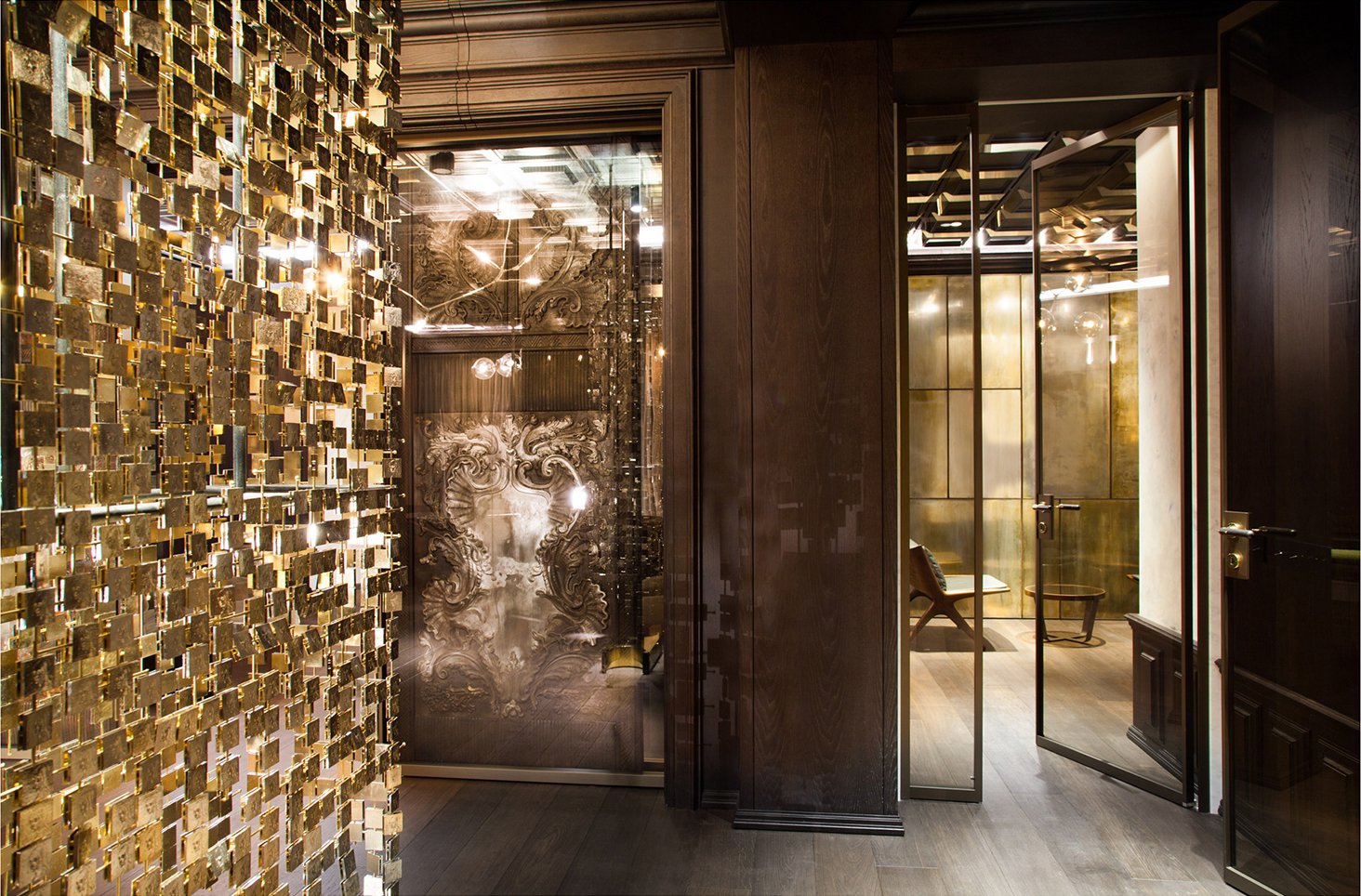 [[Renovation & interior design///Rénovation et Design d'intérieur]]
Parallel House is our newest interior project incorporating niche materials, bespoke design products, long term experience and meaningful concepts. The project involves the reconstruction of an architectural heritage building from the beginning of the 20th century. With intrinsic respect to the frames and character of the building, Privatiselectionem created a space indifferent to trends which conveys quiet and yet dramatic atmosphere.//Parallel House est notre nouveau projet intérieur intégrant des matériaux décoratifs, des conceptions sur mesure et une expérience de long terme conduisant à un concept significatif. Le programme s'inscrit dans une bâtisse du patrimoine de début du XXe siècle. Dans le respect du cadre et du charme de l'existant, Privatiselectionem a créé un espace intemporel, chargé d'une ambiance reposante mais dramatique.
Apartment Renovation//Rénovation d'un appartement
HD is an apartment with an approximate area of 450 sq.m. and it occupies the wholelevel of a building from the beginning of 20th century. The high ceilings, large classical rooms as well as the customer's curiosity and design literacy have given us the opportunity to apply the latest design trends in the contemporary approach of interior design – mixing of various materials and elements, accomplishing unexpected outcomes from the combination of furniture and spaces. The project was initiated in 2015.//HD est un appartement d'environ 450 mètres carrés. Il occupe tout un étage dans une bâtisse du début du XXe siècle. Il est marqué de ses hauteurs sous plafond et ses grandes pièces proposent au classicisme. En accord avec la curiosité du client et l'expertise de nos concepteurs, nous avons opté pour une approche contemporaine fournit des dernières tendances du design. Nous avons mélangé audacieusement de nombreux matériaux qui conduisent à un résultat inattendu le projet à débuter en 2015.
Ocean front villas//Villas front de mer
M is a project for a new construction seaside development of seven luxury villas on the Island of Maurice. The project incorporates an open area theme with deconstructed stone pillar elements and walls of glass which take advantage of pool and ocean views. Initial conception of the project in 2016.//M est un nouveau développement de la construction balnéaire de sept villas sur l'île de Maurice. Le projet incorpore un thème de zone ouverte avec des éléments de pilier en pierre déconstruits et des murs de verre qui profitent des vues de piscine et d'océan. Conception initiale du projet en 2016 .
Co-working space//Espace de travail co-working
BT is a small apartment situated in a building from the first half of the last century, redesigned to be an open co-working space for various freelance professionals. The project was initiated in 2015.//BT est un projet d'open espace en coworking à l'intention de divers professionnels indépendants. Il se situe dans un petit appartement du début du siècle dernier et a débuté en 2015.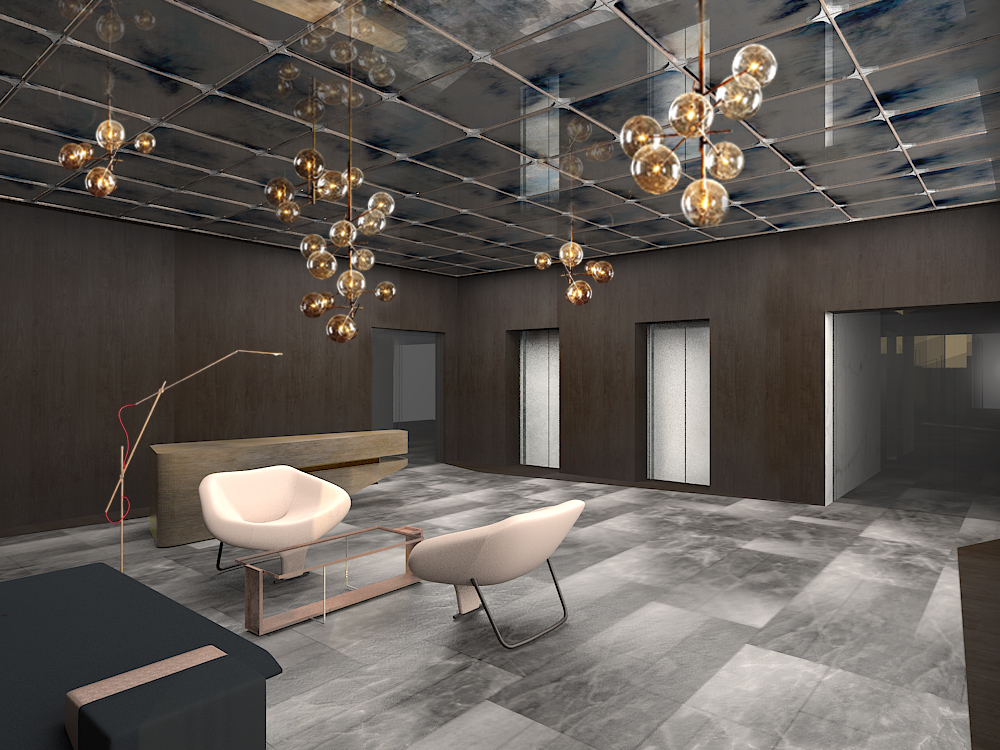 Meeting hall//Salle de réunion
Project S is a foyae and a hall for meetings and negotiations in a huge rented business building. Year of the realisation 2014.//Le projet S c'est un foyae et une salle des réunions et des négociations dans un grand immeuble d'affaires loué. Année de réalisation 2013.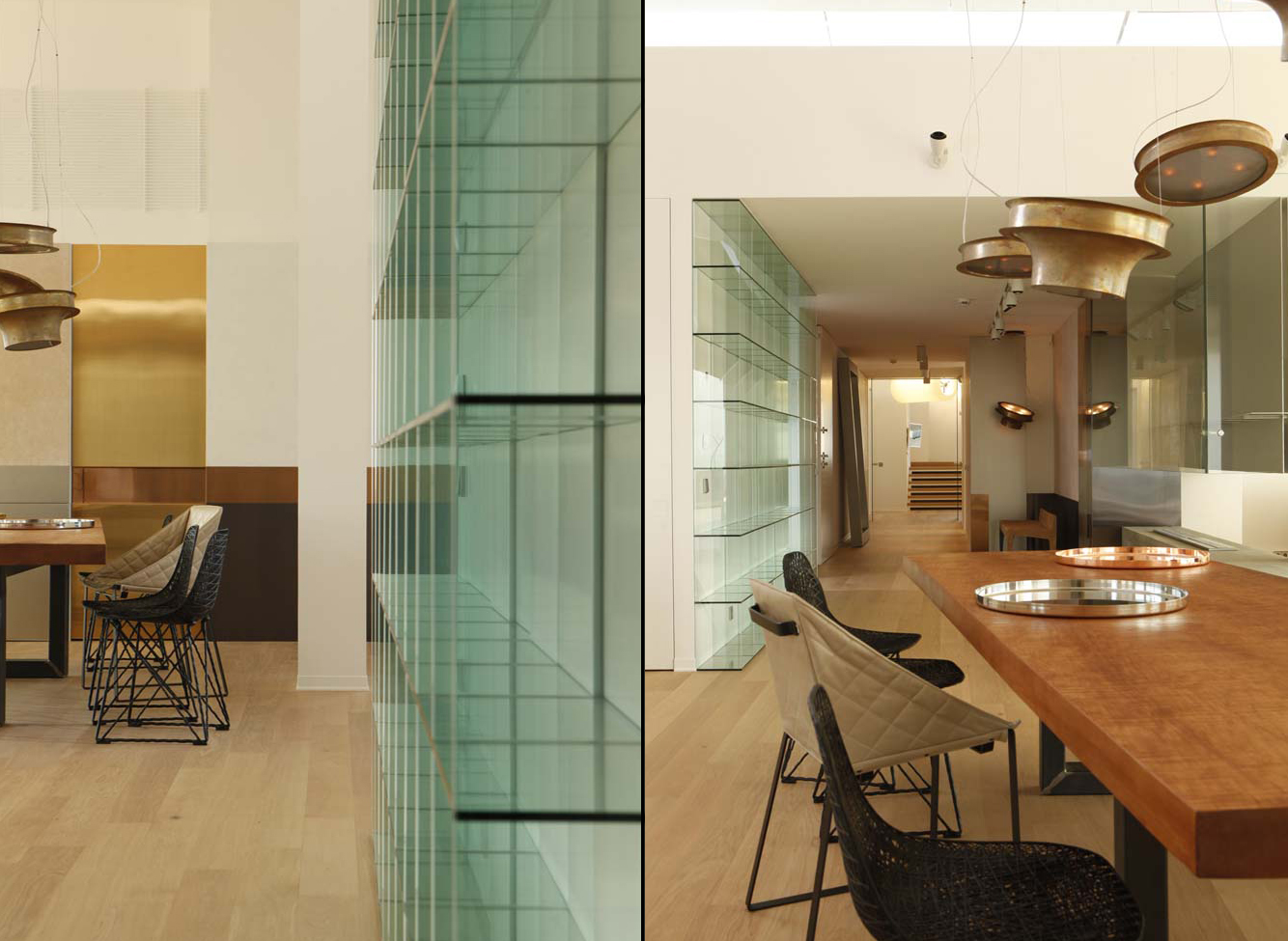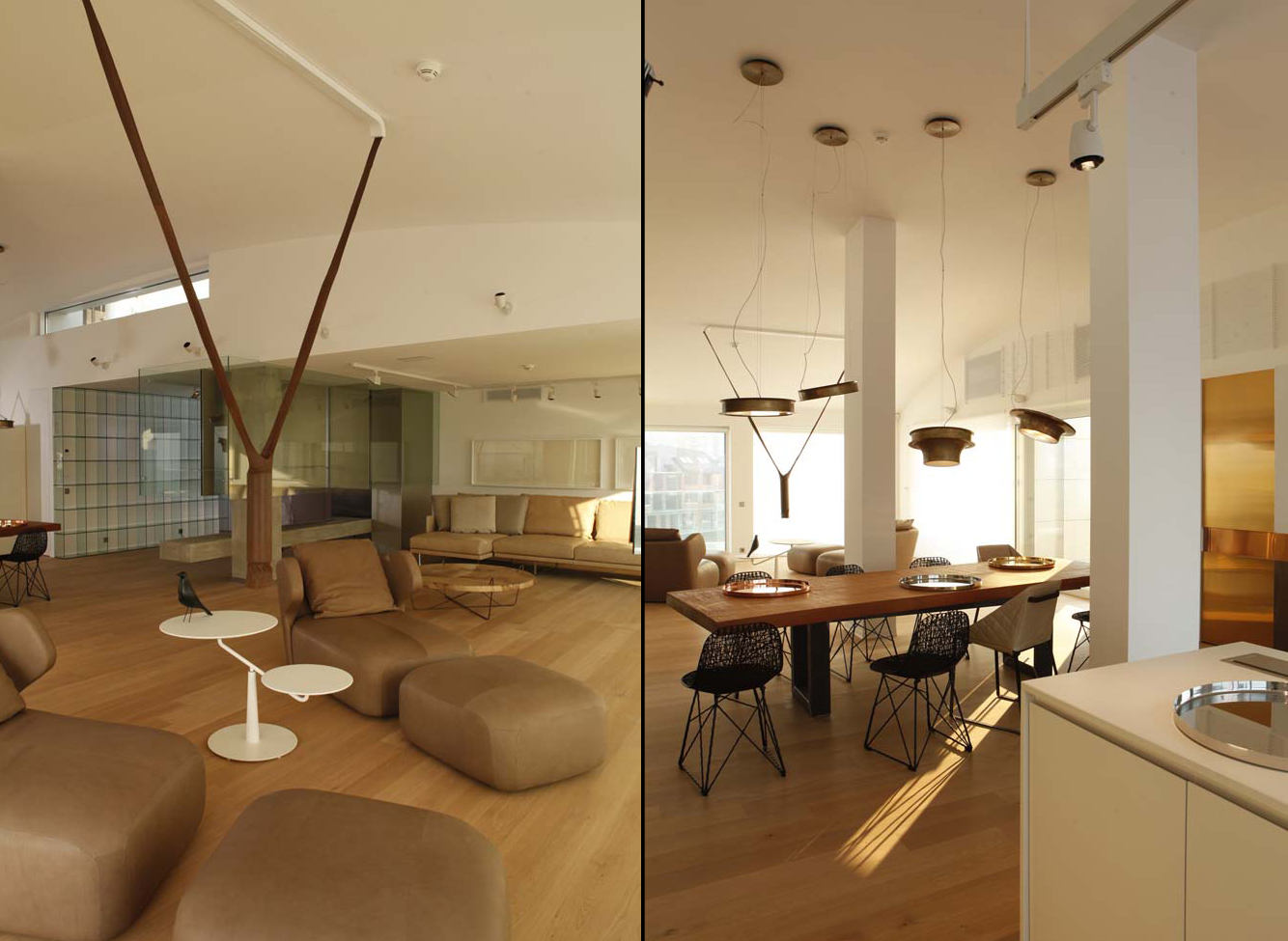 Lisbon Apartment//Un appartement Lisbonne
Presentation L is an impressive building in a new neighborhood in Lisbon. Large modern spaces, concrete and luxury surfaces. The classical style of the Cassina sofas and BULO office cabinets replace the kitchen fixtures and are a counterpoint of Vincenzo De Cotiis DC604 lamp and DC150 sofa. A large fireplace of concrete and glass visually separates the living and entrance areas without interrupting the light and space. Year of realisation 2013.//Présentation L est un bâtiment impressionnant dans un nouveau quartier de Lisbonne. Il est marqué par de grands espaces luxueux et saa présence forte de béton. Le style classique du canapé Cassina et cabinets de bureau Bulo remplacer les appareils de cuisine et sont un contrepoint de Vincenzo De Cotiis DC604 lampe et DC150 canapé. Une grande cheminée de béton et de verre sépare visuellement les zones de vie et d'entrée sans déranger la lumière et l'espace. Année de réalisation 2013.
Spanish Estate//Propriété en Espagne
Z is a huge estate close to Pamplona, Spain. It possesses all of the resources for an entirely independent and individual occupancy. It has its own sun generators for electricity, lake, farm and various fruit gardens. The building is a combination of a renovated old building and a new construction.//Z est un immense domaine proche de Pampelune en Espagne. Il est conçu pour une vie en autarcie complète : il a ses propres générateurs électriques, son lac, sa ferme, et divers jardins fruitiers qui lui confèrent la possibilité de vivre en totale indépendance et intimité. Cette architecture allie parfaitement l'ancien et le moderne.
Curved Space apartment//Appartement d'espace incurvé
Project C is again an apartment occupying the whole level of a last century building with an area of more than 600 sq.m. The main feature of this project is the highlighting of the curved space typical for Albert Speer and its building for New Reich Chancellery. Another strong element of this particular project is the closing of the plumbing installation that crosses the floor in glass boxes. This helps open up the whole space in a unified curved dimension without being interrupted by any heavy elements. Year of realisation 2011.//Le projet C est un nouvel appartement occupant tout le niveau d'un bâtiment du siècle dernier jouissant d'une superficie de plus de 600 mètres carrés. La caractéristique principale de ce projet est l'accent mis sur l'espace incurvé typique pour Albert Speer et de son grand bâtiment pour la nouvelle chancellerie du Reich. Un autre point fort de ce projet est l'installation de la plomberie dans des boîtes de verre qui traversent les volumes. On peut ainsi ouvrir complètement l'espace uniformément sans rupture lourde. Année de réalisation 2011.
Small London Apartment//Petit Appartement à Londres
Presentation B is a renovation of a small apartment in London, Kensington. We have again used the techniques of mixing old and new materials that contribute to the creation of vivid scenes in this apartment with the small area of 135 sq.m. Year of realisation 2013.//Présentation B est une rénovation d'un petit appartement dans le quartier de Kensington à Londres. Nous avons choisi de mélanger les matériaux anciens et modernes pour créer des scènes de vies indentifiables dans sa petite surface de 135 mètres carrés. Année de réalisation 2013.